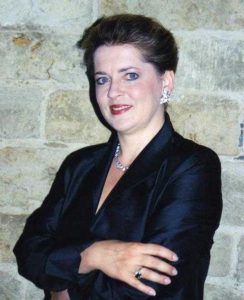 Of French origin, Stéphanie Révidat studies during nine years the piano and the organ before joining the University of Musicology in Lyon and getting its degree in 1991.
She begins in paralell to sing and enters in the "Conservatoire National Supérieur de Musique" of Lyon in 1991. She's the student of Mrs Margreet Hönig and obtains the singing diploma in 1995. The young soprano is still working now with this teacher in Amsterdam.
Since 1992, Stéphanie Révidat begins a solo career in the baroque repertoire (Bach, Charpentier, Couperin, Haendel, Litteres, Monteverdi, Pergolèse Purcell or Rameau), as well as in the classic repertoire (Glück, Haydn and Mozart).
She also sings composers like Brahms, Debussy, Fauré, Granados, Poulenc, Ravel, Schumann and Berg, Britten, Dufourt or Vacchi too.
Beetween 1996 and 1998, she joins as a young soloist, the troup of the National Opera of Lyon. By this way, she can sing a lot of roles (like Pamina, Ilia, Mélia of Mozart, Euridice of Glück or Ariane of Dufourt …) and can be formed to the production.
She sings with many conductors like: F. Brüggen, W. Christie, F.E.Comte, J. Corréas, J.C. Frish, M. Gester, C. Gibault, D. Kawka, L. Langrée, J.C. Malgoire, K. Nagano, P. Picket, M. Plasson and C. Rousset.
She works also abroad since 1999 with the american ensemble (Trinity Consort, conducted by E. J. Milnes), the canadian ensemble (Les Boréades, chamber music) and the english ensemble (Academy of San Martin in the Fields, chamber music).
One can see Stéphanie Révidat on stage in the most famous towns in Europe, in United States (Boston, Chicago, New-York, San Francisco…) and in Canada (Montreal) or in Japan.
Among her recordings, we can find the "Motets" of Daniélis (1st soprano, C. Rousset), the "Motets" of Delalande (1st soprano, M. Gester), the "Madrigaux" of D'India (1st soprano, W. Christie), "Dédale" of Dufourt (as Ariane, C. Gibault), "Alceste" of Handel (as Calliope, F.E. Comte), the "Leçons de Ténèbres" of Gouffet (F.E. Comte), "Il Sant Alessio" of Landi (as Angelo, W. Christie) and "Zoroastre" of Rameau (as Céphie, W. Christie) and the "Leçons de Ténèbres" of Couperin (1st lesson, 3rd lesson: 2nd voice, J.C. Frish).