Young audiences
Particularly attached to making baroque music accessible to all, Jean-Marc Andrieu performs on awareness actions in schools throughout the year, in close collaboration with the Departmental Services of Education of Tarn-et-Garonne (Academic Administration), with the Local Education Authority of Toulouse and with the support of the Caisse des Dépôts until 2007 and the France TV Foundation from 2008.
Thousands of students have already been able to attend rehearsals before the concert, or receive musicians in their class. These meetings are a rare opportunity for young people to discover the world of Baroque music in a didactical way and to freely interact with musicians.
Second European Day of Ancient Music the last 21 mars…
Consacred of pedagogical actions… More informations »
Among the various educational activities:
The successful project "Chante baroque, chansons et danses enfantines " , consisting of singing " french songs of yesteryear " by children of primary schools, accompanied by the orchestra.
The completion of the project to create an educational CD-Rom on Vivaldi's Four Seasons music designed and edited in collaboration with Lionel Quillet and the Regional Health Insurance Agency of Tarn-et-Garonne.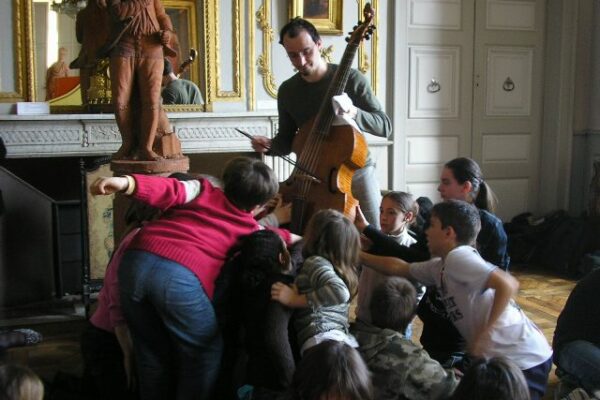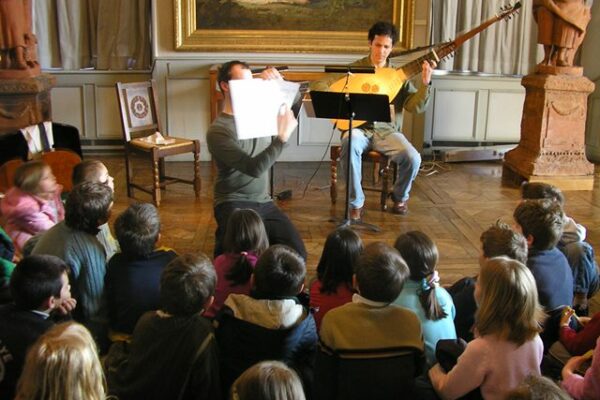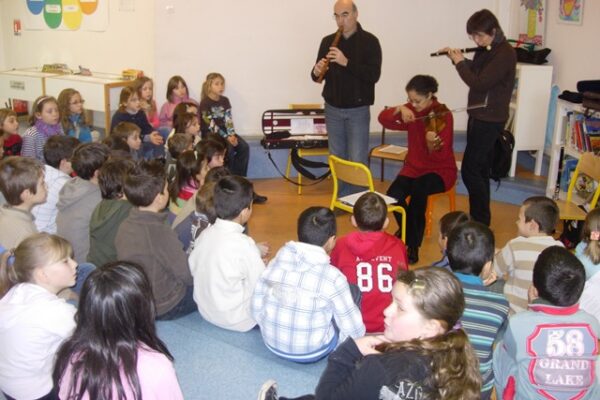 ►Press extract : concertclassic.com, La Dépêche du Midi ...
"Mais le signe le plus tangible de la réussite demeure la fréquentation du public et celle-ci se révèle en constante progression (avec une forte augmentation du nombre d'abonnés). Jean-Marc Andrieu n'est pas peu fier de rappeler qu'un récent concert Porpora s'est donné à guichet fermé… Un résultat qui n'est sans doute pas étranger aussi au travail pédagogique mené par l'ensemble auprès du jeune public. Jeune et même très jeune parfois : les instrumentistes des Passions s'investissent ainsi avec beaucoup d'enthousiasme dans un projet en direction des élèves de maternelle du village de Saint-Etienne-de-Tulmon." Alain Cochard, concertclassic.com (…)
"Toujours au Musée, trois musiciens de l'orchestre « Les Passions », orchestre baroque de Montauban, Yasuko Bouvard au clavecin, Étienne Mangot à la basse de viole et Jean-Marc Andrieu à la flûte, invitaient les enfants à parler de rythme au travers de Haendel, Telemann et Scarlatti. Le jeune public participait activement en frappant des mains afin de marquer la différence entre pulsation et rythme puis entamait un dialogue très riche avec les musiciens. Cette action pédagogique a pu se dérouler grâce à la collaboration des services éducatifs et d'action culturelle du musée Ingres et de l'orchestre Les Passions. L'orchestre bénéficie pour l'ensemble de ses missions en direction du public scolaire du mécénat de la Caisse des Dépôts et Consignations. C'est par l'intermédiaire des conseillers pédagogiques en Arts visuels et en Éducation musicale que ce partenariat a pu se mettre en place avec l'Inspection académique. Les élèves vont maintenant pouvoir, au sein de leurs classes, exploiter la richesse de ces rencontres. " La Dépêche du Midi, mardi 27 mars 2007
If you want to organize a pedagogical action for your students,
Contact us at 05 63 22 19 78