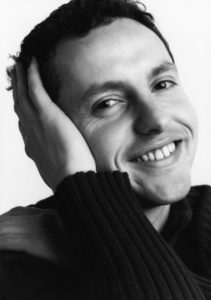 Jean-François Novelli's season 2013-2014 includes scenic productions and concerts. On stage, and within baroque repertoire, he sings in Monteverdi's Orfeowith Les Nouveaux Caractères and in Lully's le Bourgeois Gentilhomme with l'Ensemble Baroque de Limoges (staged by Denis Podalydès) ; he also sings opéra comique, like Auber's L'Ambassadrice, or Hervé's l'Elixir with Les Frivolités Parisiennes. As for concerts, he is on a tour for Haendel's Messie, Monteverdi's Vêpres and several baroque music programs, mainly with his own ensemble Les Lunaisiens. Finally he performs in more unusual productions where text, music and humour gather, for instance the fanciful show based on a text by Berlioz Récital…récital ?
He recently was a « multiple fairy » in a project led by Versailles Centre de Musique Baroque de Versailles, for performances in the Château de Versailles opera, at Paris Cité de la Musique, at the Arsenal de Metz, among others…
After graduating in musicology (Paris La Sorbonne) and winning the flute Concours Général, Jean-François Novelli shifted to singing and entered Paris Conservatoire National Supérieur de Musique et de Danse ; after his graduation, he was awarded as well the title of ADAMI young talent.
Very keen on baroque music, he worked with most of 17th and 18th centuries specialized ensembles, among which Les Folies Françoises, Il Seminario Musicale, les Talens Lyriques, le Poème Harmonique, la Fenice, le Ricercar Consort, l'Ensemble Baroque de Limoges… He can also be heard in chamber music repertoire, as well as in french melody and lied.
He created with Arnaud Marzorati the ensemble Les Lunaisiens, that already released two recordings : Tirannique empire, dedicated to Jean-Baptiste Stuck cantatas, and France 1789 about songs of the French Revolution. A third disc, with mezzo-soprano Isabelle Druet, is to be released by the end of 2014.
He was asked to participate in several radio broadcast, is regularly invited by Versailles Centre de Musique Baroque for programs dedicated to french music, and is always fond of new musical experiences, mixing dramatic play with music or based upon personal writing projects.
Among the highlights of past seasons, he was Ali in Gretry's Zémire et Azor and Orphée in Offenbach's Orphée aux Enfers on tour and in Versailles royal opera. He also sang the part of Louis XIV in Taïwan in production where chinese and french universes met for a fictional meeting between both monarchs : Kangxi et Louis XIV.
Also to be mentioned, Tobias's part in Sondheim's Sweeney Todd, his participation in David Chevalier's jazz recording Gesualdo variations, the creation of songs by Antoine Sahler inspired by la Fontaine's erotic tales… as well as his large discography, around thirty recordings with, for instance, Gerard Lesne, Vincent Dumestre, Christophe Rousset, Jordi Savall or the Maîtrise de Versailles.