Les Passions
"The intention of Music is not only to please the ear, but express sentiments, strir the Imagination, affect the mind, and direct the Passions."
Geminiani, The Art of Playing on the Violin, 1751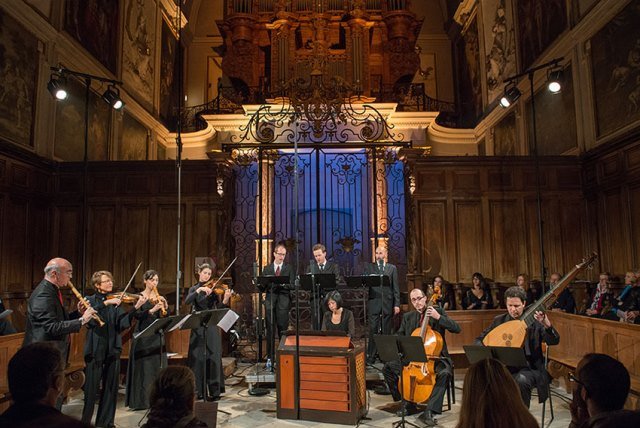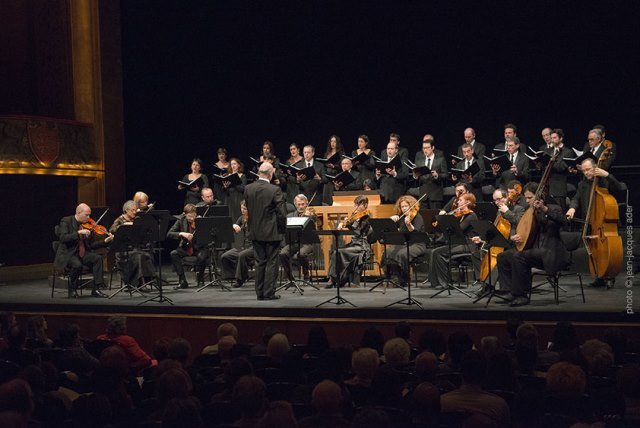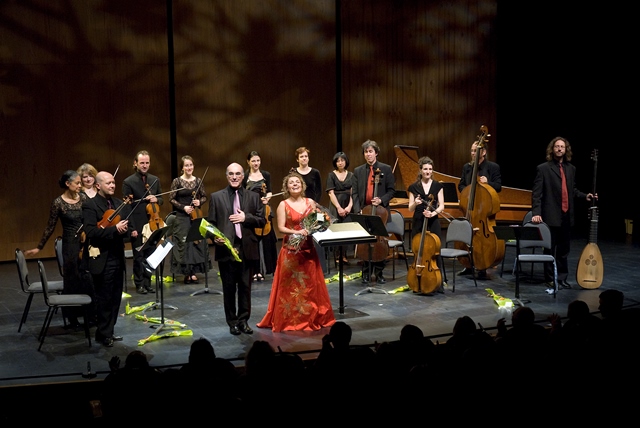 Les Passions – The Montauban Baroque Orchestra was formed by recorder player Jean-Marc Andrieu in 1986 and is in residency in Montauban.
The ensemble varies in size and specialises in playing period instruments. Its artistic approach reconciles two principles: respect for early playing techniques and dynamic performance of the musical discourse.
Les Passions plays a wide range of music. There are small instrumental ensembles, grand oratorios, historical shows (Une Soirée chez Riquet, Soirée Musicale chez Ingres), sometimes bleding diverse influences (Mirages des Sons du Sud, Taiwanese music from the Seventeenth and Eighteenth Centuries). The orchestra shines in the performance of a variety of repertoires : French Baroque music (De Paris à Versailles, La Dynastie des Couperin), Italian Baroque (Vivaldi fioritura, Folies d'Hier et d'Aujourd'hui), German Baroque (Le Voyage à Lübeck, Une soirée à Potsdam), and English Baroque (Dowland and Purcell), and so on.
The Orchestra, conducted by its artistic director performs on its own or accompanied by singers, and it can accompany choirs under the direction of the choirmaster. It frequently collaborates with vocal ensembles, Le Choeur de Chambre, Les Eléments and Choeur du Capitole from Toulouse. It stages original dance performances with the Sophie Carlin Compagny (Geminiani's The Enchanted Forest) and the James Carlès Compagny, set to the music of Chevalier de Saint George.
Between 2004 to 2011, during a season in Toulouse, Les Passions developed various original aspects of Baroque music and invited renowned soloists such as S. Kuijken, P. Hantaï, E. Gatti, G. Laurens, I. Poulenard, R. Lislevand…
Les Passions was invited by the French Embassy in Rome (Palazzo Farnese) for Suona Francese, and by the following festivals Oudemuziek Utrecht (Netherlands), Musica, Santander, Bilbao, Valencia (Spain), Amsterdam, as well as Switzerland, Hungary, and so on. It has also performed at prestigious events in Lessay, Sablé-sur-Sarthe, Pontoise, Lanvellec, Sylvanès, Rencontres de Musiques Anciennes en Midi-Pyrénées, Conques, Toulouse-les-Orgues, Sorèze, Strasbourg, etc.., and on the Island of Reunion.
In 2011 and 2013, the orchestra took part in the Passions Baroque festival in Montauban, for which Jean-Marc Andrieu was the artistic director.
The Chaise-Dieu Festival has invited Les Passions three times to perform its famous triptych, dedicated both onstage as on CD to the composer Jean Gilles. Les Passions Orchestra, conduced by Joël Suhubiette, accompanied Les Elements Choir to celebrate its fifteenth anniversary in a performance of the Magnificat by Bach. This concert was followed by a tour of the Dixit Dominus by Handel.
In 2013-2014, Jean-Marc Andrieu and Les Passions shared the stage at the Théâtre du Capitole conducted by Alfonso Caiani, performing Motets Versaillais by Rameau and Mondonville.
In the spring of 2014, the orchestra was invited by the French Embassies and Alliances Françaises in Bolivia and Peru, assisted by the French Institute. They embarked on a noteworthy tour of six concerts at the Missiones de Chiquitos Festival in La Paz, Lima and Cuzco.
In accordance with the CD release policy of Les Passions on the Ligia label (distributed by Harmonia Mundi), one CD is realeased every year – each of which is a huge success. Con Voce Festiva (Scarlatti), Venitian Vespers (Porpora/Vivaldi), Noël Baroque Occitan with the Sacqueboutiers, and Beata est Maria, a collection of motets for three men's voices, by Marc-Antoine Charpentiers, most of which have never been released before. "FolieS!" is the first purely instrumental CD by the orchestra. It high-lights the recorder, which is their musical director's favourite instrument.
► For: Les Passions Discography click here…
By virtue of his in-depth musicological and historical research, and considerable re-creation research into forgotten or lost scores, Jean-Marc Andrieu has established himself as being the world's speacialist on Jean Gilles. The conductor has been eager to highlight particular major works by the composer from Toulouse for several years. These have featured on three sucessive releases. The 3-CD box set came out in 2013. Concerts and recordings bring together Les Passions, Les Eléments, Anne Magouët, Vincent Lièvre-Picard, Bruno Boterf and Jean-François Novelli, as well as Alain Buet. In April, 2016, an international symposium will be organised in partnership with Jean Jaurès University in Toulouse : "Jean Gilles et les Maîtres du Baroques Méridional". Jean-Marc Andrieu enthusiastically continues his research into dicovering and re-creating the musical heritage of the region (Toulouse, Dukes of Aiguillon, Montauban and so on).
The orchestra is in residency in Montauban. It is subsidised by the City of Montauban, The Urban Community of Grand Montauban, the Departmental Council of Tarn-et-Garonne and the city of Toulouse. The ensemble receives the grant which is available to approved ensembles from Midi-Pyrenées Region. It regularly receives support from the SPEDIDAM, the French Institute and the Adami for recordings. It is a and the ADAMI for its recordings. It is a member of the FEVIS (Specialized Federation of Vocal and Instrumental Ensembles).